We are located between Des Braves and Belvedere streets, two steps away from the Battlefields and the Musée National des beaux arts du Québec, in the center of the cultural and artistic activities, major boutiques and restaurants, very close to Old Quebec, Château Frontenac and the Congress Center. You will enjoy a comfortable cosy bedroom, charming decor, appetizing breakfast, a quiet place for reading and relaxing and much more...
Have a peek on the Rooms
Each room has a distinctive decor, inspired by the artistic universe of the impressionists Degas, Monet and Van Gogh. All duvets and fine linen in our cosy beds, warm dressing gowns, added to a comfortable ensuite bathroom enhance an intimate atmosphere propicious to a regenerative sleep. Central air conditioning, TV, VCR, wireless internet access are part of many services offered. Each room provides also an hair-dryer, make-up mirror, bath-robe, wooden floor, working desk, comfortable chair.
Come and relax
At the rooms's level, there is a quiet and comfortable library opening on a balcony where you can read art books, magazines and just relax. A free access to a computer is available for our guests in this room. Ironing board, fresh bottled water and refrigerator are ready for access if you need to. You can also relax on a flowered terrace overlooking the street or nestled away from the city's hubbub, a large veranda beckons you to sit and rock taking in the various fragrances of a beautiful garden.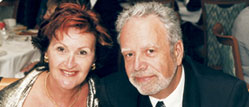 Yours host Mireille and Serge
Morning delights
Ours guests are delighted about the quality and the variety of the lavish breakfast served in the elegant dining room. Let your imagination salivate on a real treat... Ours guests also tell us it is so easy to linger when you feel cosy and comfortable.
Your stay at l'Arvidienne is an unique and unforgettable experience in a non-smoking and air conditioned environment.
Free Parking for your comfort and security !